Want to know how to determine whether a niche is good and worth pursuing?
After analyzing hundreds of niches, these are the 6 things I always look for.
The criteria a niche MUST meet to be worth pursuing.
This could save you from wasting years of precious time.
Before proceeding, I suggest picking a niche and following along with each step so you learn how to analyze a niche yourself!
You'll need the Keywords Everywhere Chrome extension for this (it's free).
Alright, let's jump in with the 6 criteria I look for!
1. Presence of many low-competition keywords
The quickest way to check this is to find forums in your niche.
For example, if your niche is "painting", you should search "painting forums".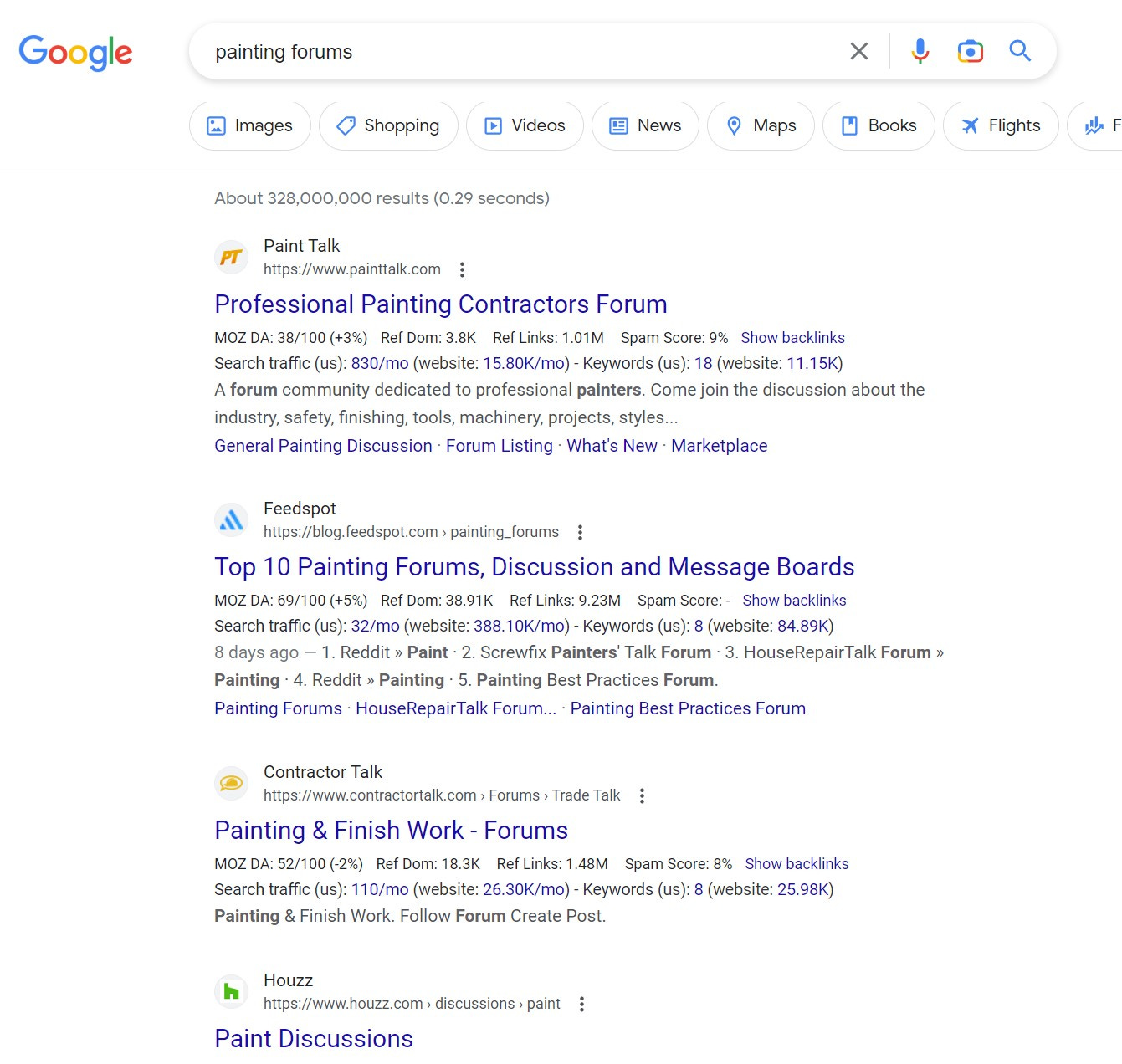 On the first page, I see these relevant results:
Paint Talk
Contractor Talk
Houzz
Painterforum
DIY Home Improvement Forum
I'll pick Paint Talk to analyze for low competition keywords.
To see the keywords a site ranks for, click the traffic estimation link circled below (this will only show up if you installed Keywords Everywhere):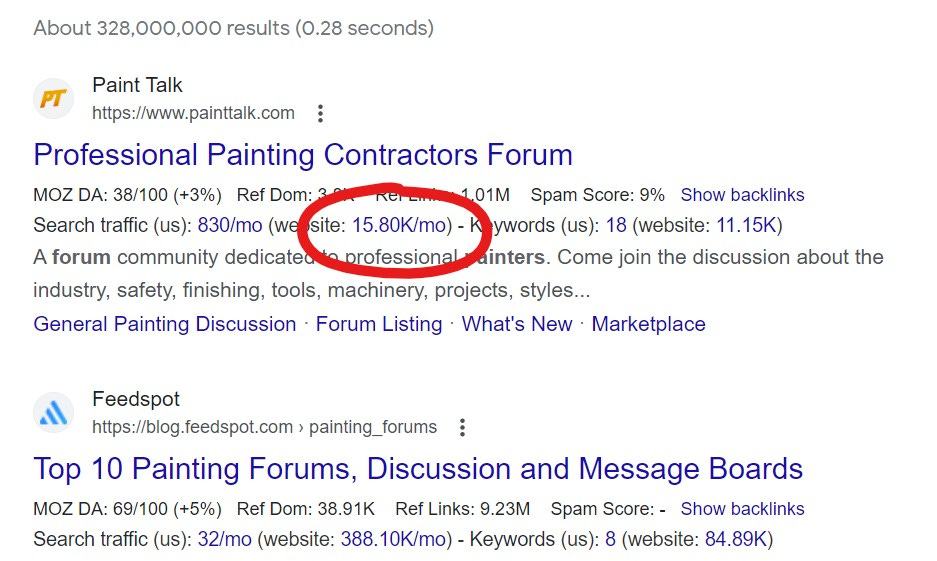 You'll now get a list of the top keywords for Paint Talk.
Right away, I see:
cabot deck correct reviews
1/2 inch nap vs 3/8
prime before or after texture
I know these are all good keywords because they match the criteria I wrote about in this post.
If you can't find any forums in your niche, that doesn't mean there are no low competition keywords.
Here's a thread you should go through where I show more ways to find low competition keywords:
2. Low-DA sites getting good traffic
To check for this, just search a few keywords in the niche, like the 3 I mentioned above.
Then, scroll through the results and look for sites that are obviously in the painting niche.
Check their DA (Domain Authority) and traffic level.
How to check Domain Authority
Keywords Everywhere shows the DA right there in the search results.
DA is calculated out of 100. The lower the DA, the less authoritative the site (and therefore the easier to outrank with your own site).
Below, the middle site has a DA of 12 which is low.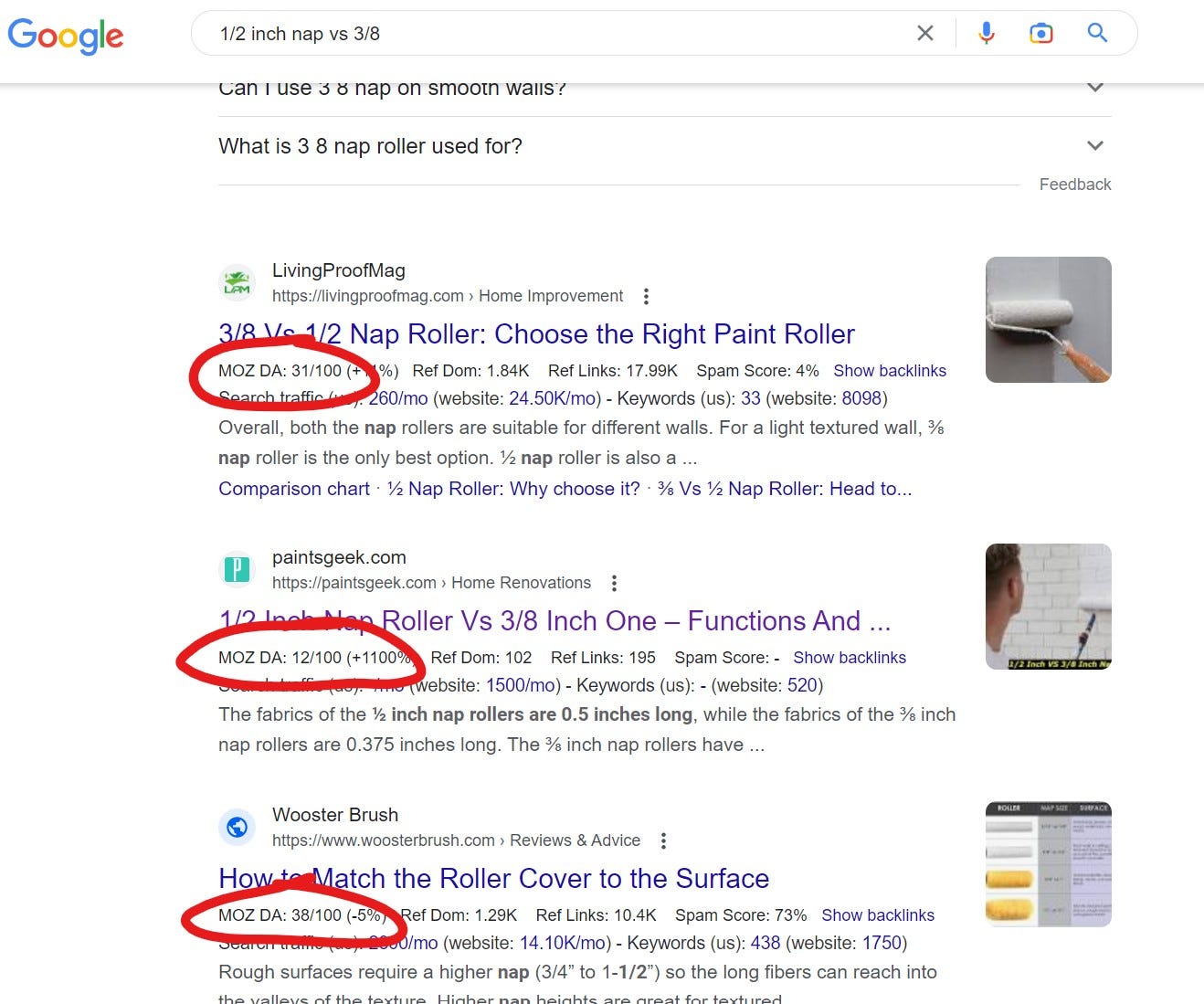 How to check traffic
There are many traffic estimation tools, but my favorite (and the most accurate in my experience) is SimilarWeb.
Here's the link (it's free).
With SimilarWeb installed, open a low DA site and click the SimilarWeb icon.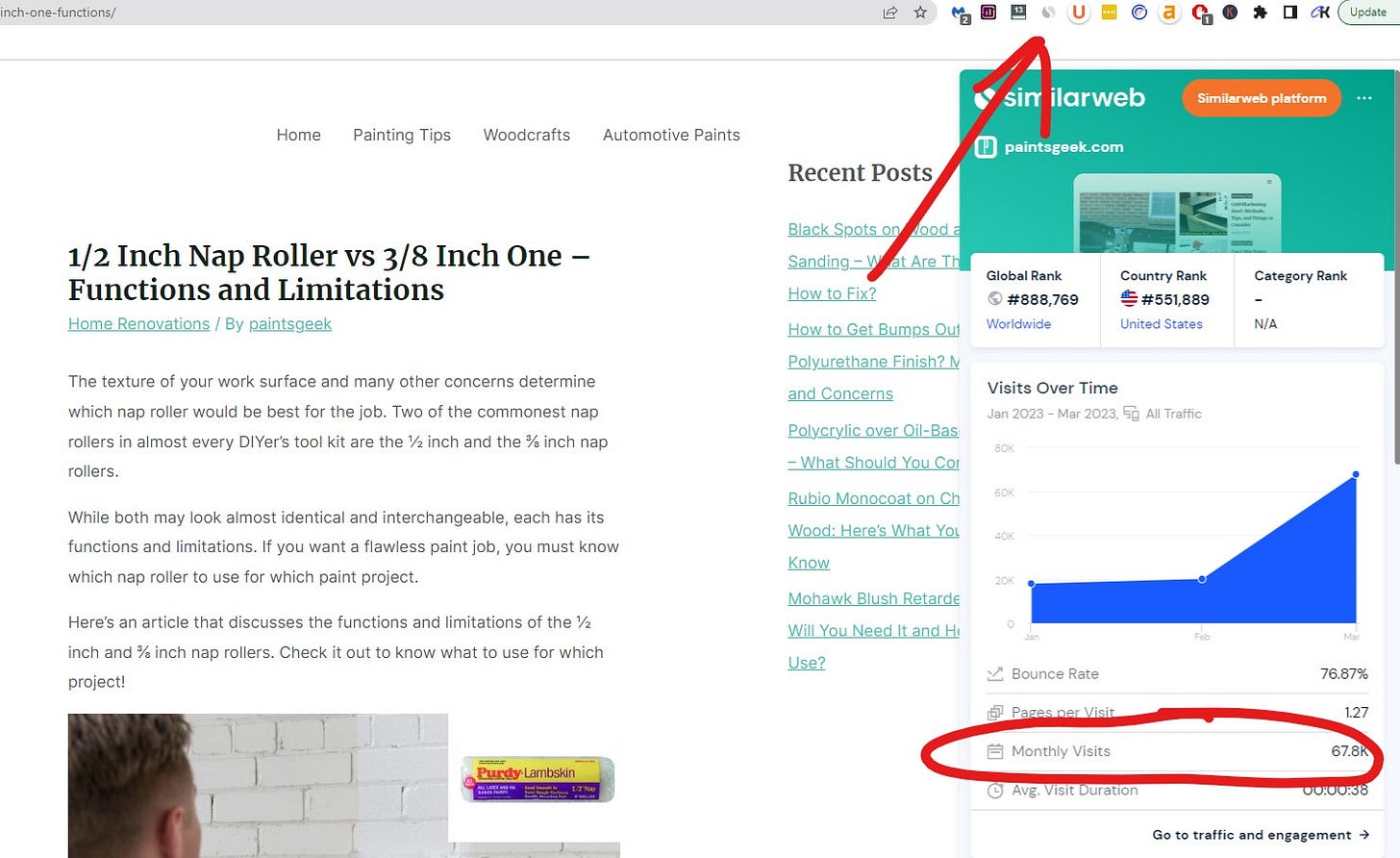 As you can see in the screenshot above, PaintsGeek is getting nearly 70,000 visits/month and only has a DA of 12.
That's a good sign the painting niche isn't very competitive.
So, we can check off "Low-DA sites getting good traffic" 🙂
3. Lots of content opportunities
There's no point entering a niche if it's so narrow you can only cover a few topics…
As long as there are hundreds of distinct topics you can cover, you're good to go.
Example niches to show what I mean:
"1953 pennies" – too narrow
"coin collecting" – perfect
4. Good traffic potential
To check this, find the top websites in your niche and check how much traffic they're getting.
The quickest way to do this is to use a tool like Ahrefs.
Put a niche site you found (like PaintsGeek) into Ahrefs and view the Organic competitors report.
Ahrefs will list a bunch of competitors, and you can quickly find the largest ones by looking at the traffic field.
Ahrefs misses some sites, so pick one of the new sites Ahrefs lists (it has to be in the same niche though!) and look at the Organic competitors report again.
You want to find the sites with the most traffic in the niche.
If you don't have Ahrefs or a similar paid tool, the process is a lot more manual.
You'll have to search broad keywords in your niche.
Things like:
– best paint sprayer
– how long to let primer dry
And scroll through the results, finding sites in the painting niche.
For each site you find (even if you used Ahrefs), check the traffic numbers using SimilarWeb.
Visit the site
Click the SimilarWeb extension icon
The traffic the top sites are getting will tell you what the traffic potential is.
Anything above ~100,000 visits/month is decent. Less than that is alright too, as long as the monetization potential (see below) is good.
5. Monetization potential
Can you make money in the niche, and if so, how?
All websites can be monetized with display ads. As long as there's good traffic potential, you can make money.
But some niches offer more opportunities, like affiliate marketing and selling digital products.
A niche has good affiliate marketing potential if there are multiple physical or digital products within the niche.
In the painting niche, there's paint, brushes, rollers, sprayers, and so much more. Lots of physical products you can promote as an affiliate.
The more expensive the products in the niche, the better.
As an example, the "pencils" niche has lots of products you can promote, but they're all inexpensive.
On the other hand, the "credit cards" niche also has lots of products you can promote, but you can make $100+ per sale!
Much better monetization potential.
6. Google Trend (past 5 years)
Check your niche in Google Trends.
Set the timeframe to "Past 5 years".
If the trendline is steady or increasing, that's a good sign. You may find it's seasonal too, which is fine if you're okay with traffic fluctuating at the same rate.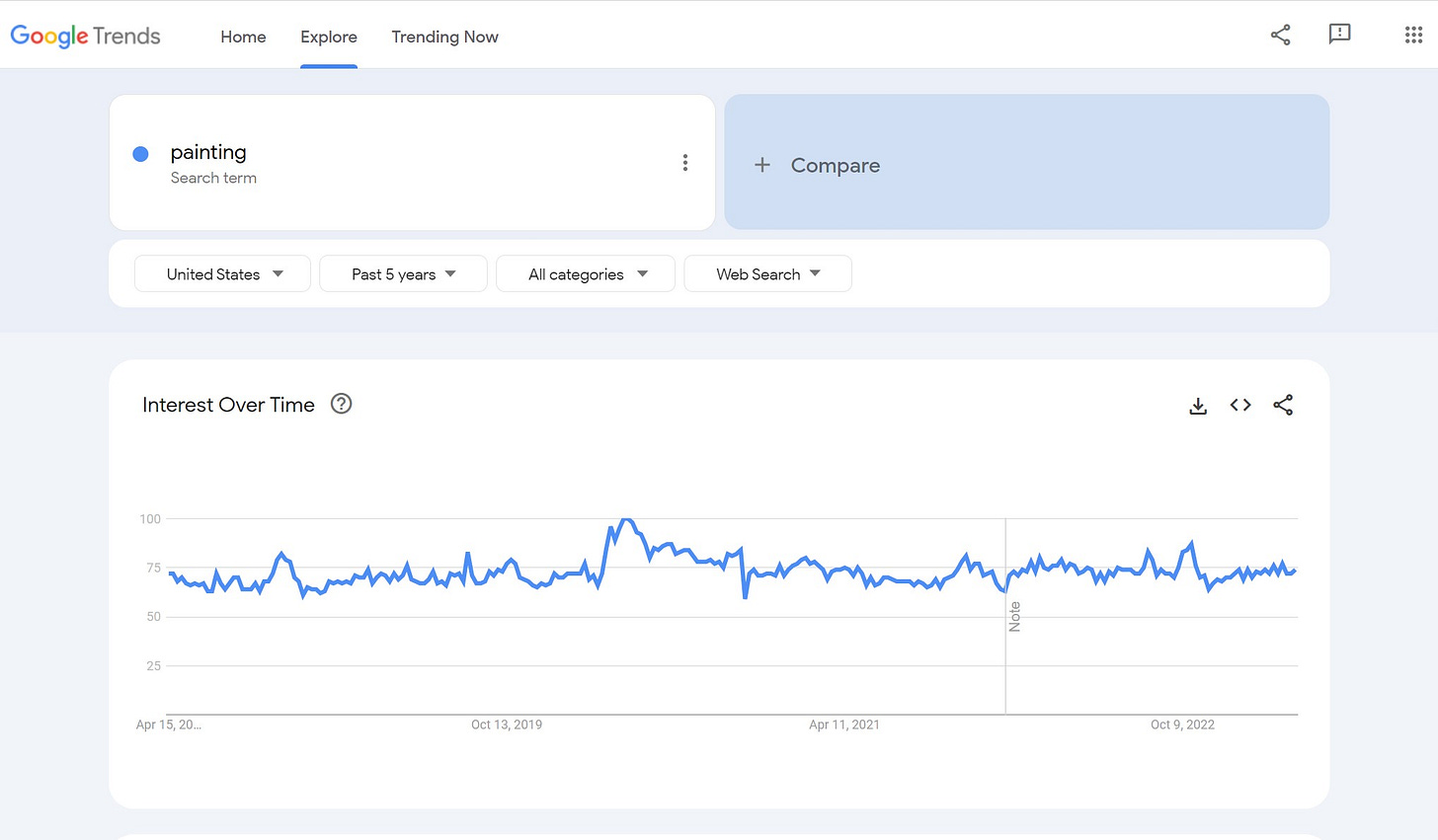 And there you have it.
The 6 things I look for when determining whether a niche is worth pursuing or not:
Presence of low competition keywords
Low-DA sites getting good traffic
Amount of content opportunities
Traffic potential
Monetization potential
5-year trend
As mentioned at the beginning, I've analyzed hundreds of niches.
I put all the good ones (over 50!) in a list called Curated Niches.
Thanks for reading. I hope you got some value out of this!
Now go analyze some niches 🙂