I'm gonna need to use an example to show you how to do this. So yeah, I'm giving away one of my keywords…you're welcome.
(Don't worry, it's not one of my Curated Keywords client's keywords or even in their niche. It's in my niche 😭)
Thanks for reading Niche Site Growth! Subscribe for free to receive new posts and support my work.
Before I tell you the keyword, make sure you have the following Chrome extensions installed if you're following along:
Done? Cool, let's move on!
Here's the keyword: "range rover air suspension won't raise"
I put that keyword in Google, and then check 4 things:
Search volume
UGC (user-generated content) results
Lowest DA on first page
Search intent
I'll explain each of these in more detail…
First, I check search volume to see there's any traffic potential.
Keyword Surfer shows 110 (see the screenshot below).

But I don't just rely on that.
I also look at what traffic Keywords Everywhere thinks the results ranking on the first page get.
That's the first number after "Traf/mo" (see the screenshot below)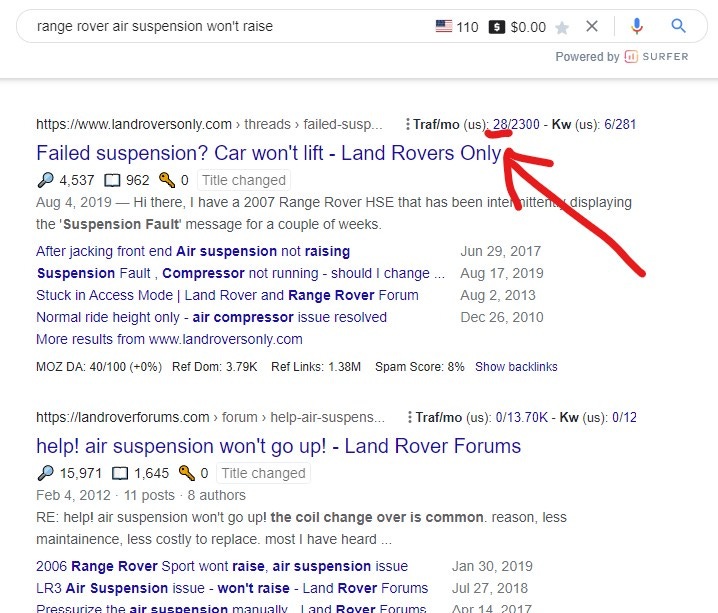 Scrolling through, it looks like a few of the results get traffic. Usually the estimates are WAY low though 🙂
And there are more ways to know if a keyword gets good search volume, but not all my tactics are free…
The above is enough to know that this keyword can generate some traffic though, so let's move on to the next thing I check, UGC results.
UGC (user-generated content) results are sites like Quora, Reddit, and forums/Q&A sites. Basically any site where the users of the site are the ones generating the content.
It's generally quite easy for a thorough, well-done article to outrank UGC sites. So if I see a UGC site in the results, that's great. If I see multiple UGC sites, that's absolutely fantastic 🙂
Looking through the results for this keyword, I see 5(!!!) UGC results. In fact, the top 4 results are forums!
Looks like I struck gold here. I could stop now, but for the sake of this article let me explain the other checks I like to make…
Next, I'll look at the MOZ DA (domain authority) of the sites on the first page.
I'm looking for the lowest DA.
If the lowest DA is the same or lower than my site's DA, that's a good sign I can rank for the keyword.
The lowest DA I see is 23: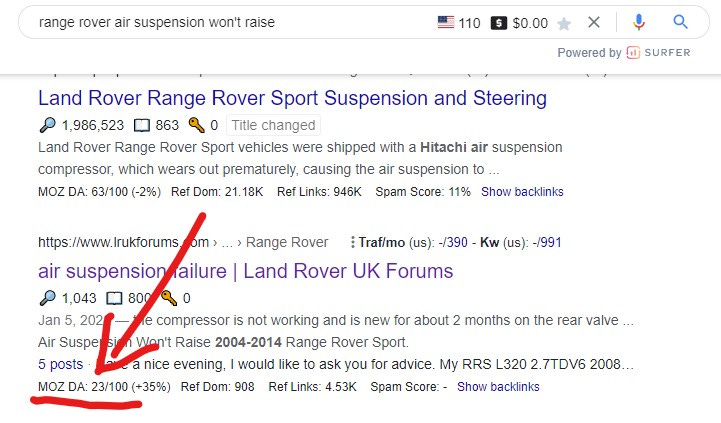 In this case, even if my site's DA was 1 I'd still target this keyword, because of the 5 UGC results.
But if there were no UGC results and the lowest DA was 23, I'd avoid this keyword (unless my site had a higher DA than 23).
The final check I make is search intent.
As the searcher, would I be happy with the results Google shows? Do they answer my question/give the info I want?
If only a few do, then the keyword isn't covered very well and a well-done article could rank on the first page.
If search intent isn't matched at all (unmatched intent), that's a MAJOR opportunity and I'd definitely go for that keyword (assuming it has search volume).
If search intent is matched, I would still target the keyword as long as it passed the other checks I made.
For this example, it looks like all the results match search intent.
Which, again, is fine as long as it's a good keyword based on the other checks (search volume, UGC results, and lowest DA).
Quick recap:
Check the following to see if a keyword is worth targeting:
Search volume
Presence of UGC (user-generated content) results
Lowest DA on first page (is it lower than your site's DA?)
Search intent (Matched? Partially matched? Unmatched?)
And that's how I analyze Google's SERPs to see if my site can rank!
---
If you thought this was good, you'll love my full course.
I go into quite a bit more detail on all this and walk you through a bunch of examples on video 😉
https://course.smartkeywordresearch.com/
30% off with code TWITTER