There are lots of ways to do this with various tools, but in this article I'll show 3 ways, 2 of which are free, and one paid.
1st method: Keywords Everywhere
First, make sure you have the Keywords Everywhere Chrome extension installed (affiliate link).
It's free, but you can pay $10 for 100K credits in order to see metrics like volume, CPC, competition level, and trend.
100K credits last awhile.
That said, the free version works fine for this too.
Alright, let's begin!
Say I'm building a topical cluster around Ariens snow blowers.
I'd start by searching an informational keyword related to that topic.
The goal is to find large websites/forums ranking for Ariens keywords.
Here's what I searched: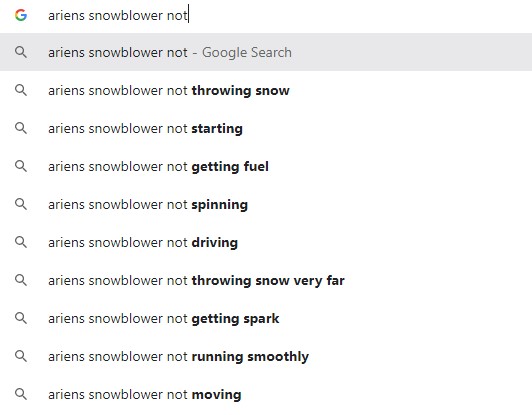 I'll go with the first suggestion, "ariens snowblower not throwing snow".
I see multiple medium and large sites among the first several results targeting this keyword.
You can get an idea of the size of a site by the estimated traffic numbers provided by Keywords Everywhere: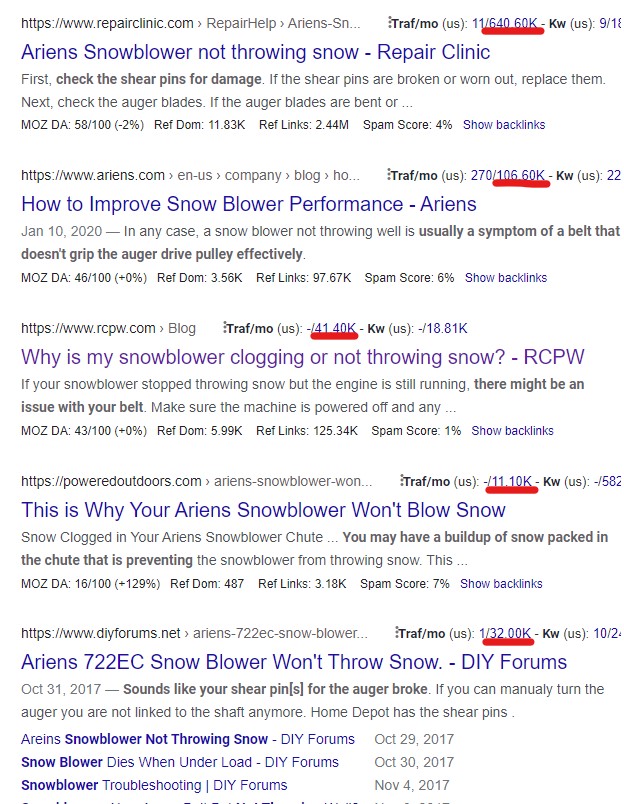 It's time to mine some keywords!
I'll start with the top result; Repair Clinic.
Hover over the traffic number I underlined in the screenshot above.
Click either number on the right-hand side (see below):
You'll get a list of the top 5,000 keywords the site ranks for.
This is where you narrow it down to your specific keyword cluster.
In the search bar (circled in the screenshot below), type in your topic.
This will filter the list to only show keywords containing that word.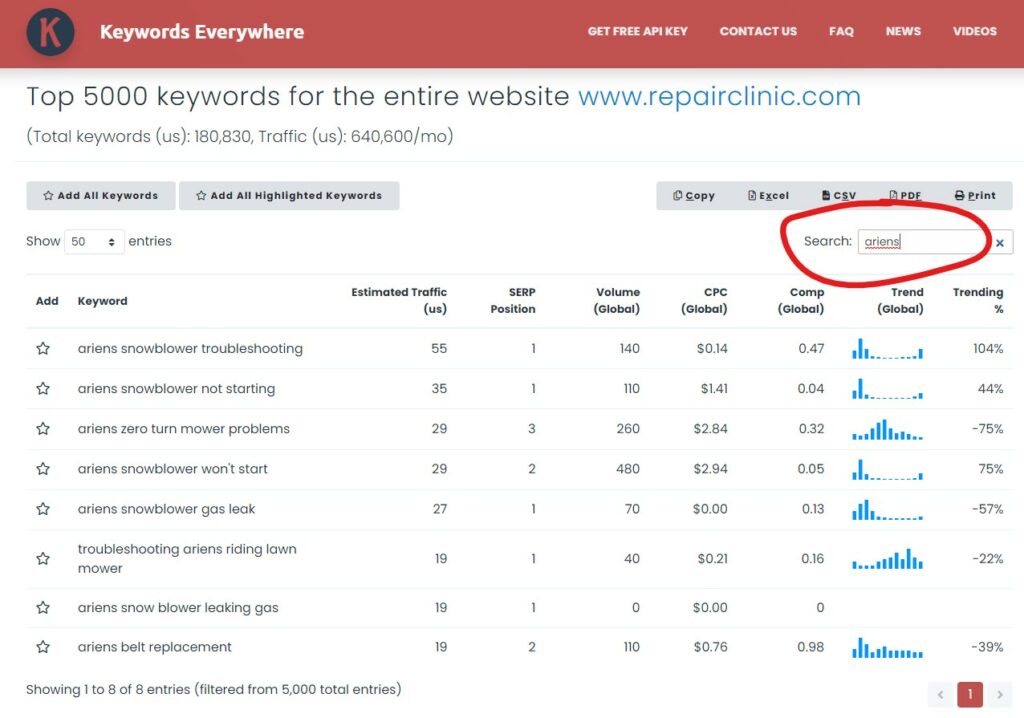 Repeat the process for the other websites ranking for that keyword.
You'll soon have a large list of keywords to target or analyze further.
To make sure a given keyword is worth targeting, follow the steps outlined in this article.
2nd method: Ahrefs
You can also follow this method in Ahrefs (and other paid SEO tools).
Here's how to do this in Ahrefs:
Paste the URL of the site – in this case Repair Clinic – in the Ahrefs search bar.
On the left-hand menu, click "Organic keywords".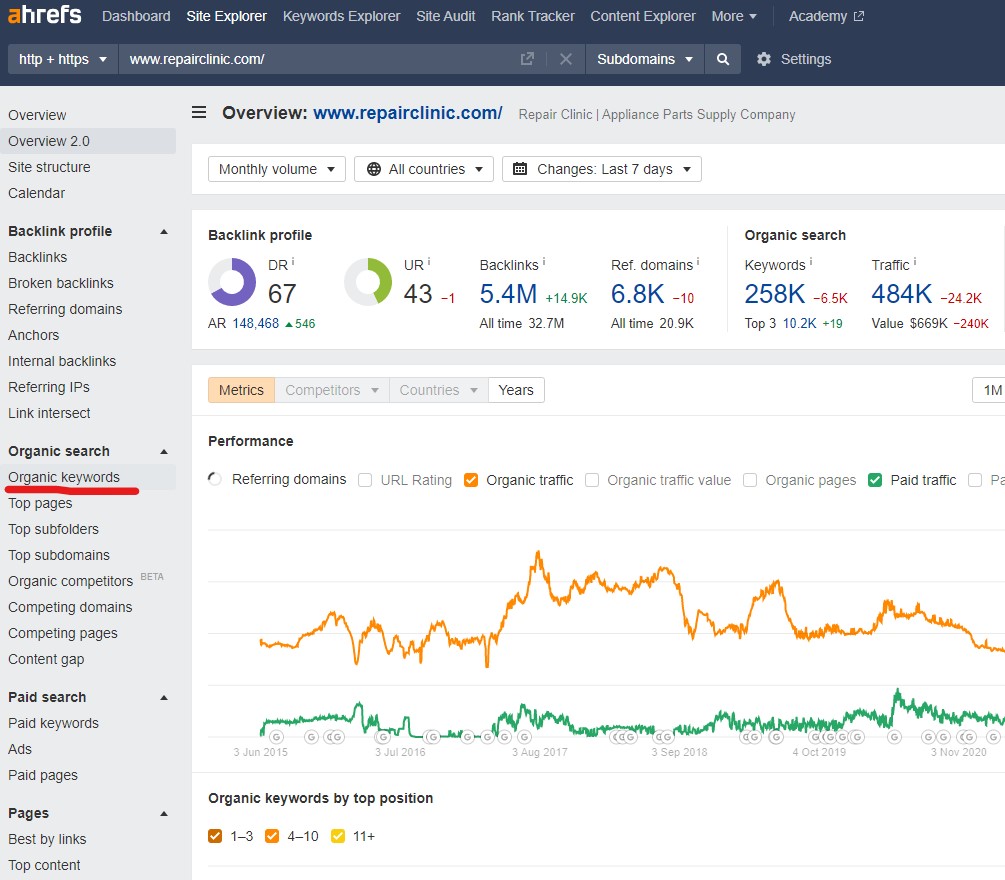 On the Organic keywords report, click "Keyword", type your topic in the search bar, click Apply, and then click Show Results.

Ahrefs will then show a list of all the keywords with the word "ariens" in them that Repair Clinic ranks for.
In this case, there are 997!
Many of them are duplicates (see the first three in the screenshot below), so you will have to pick them out manually.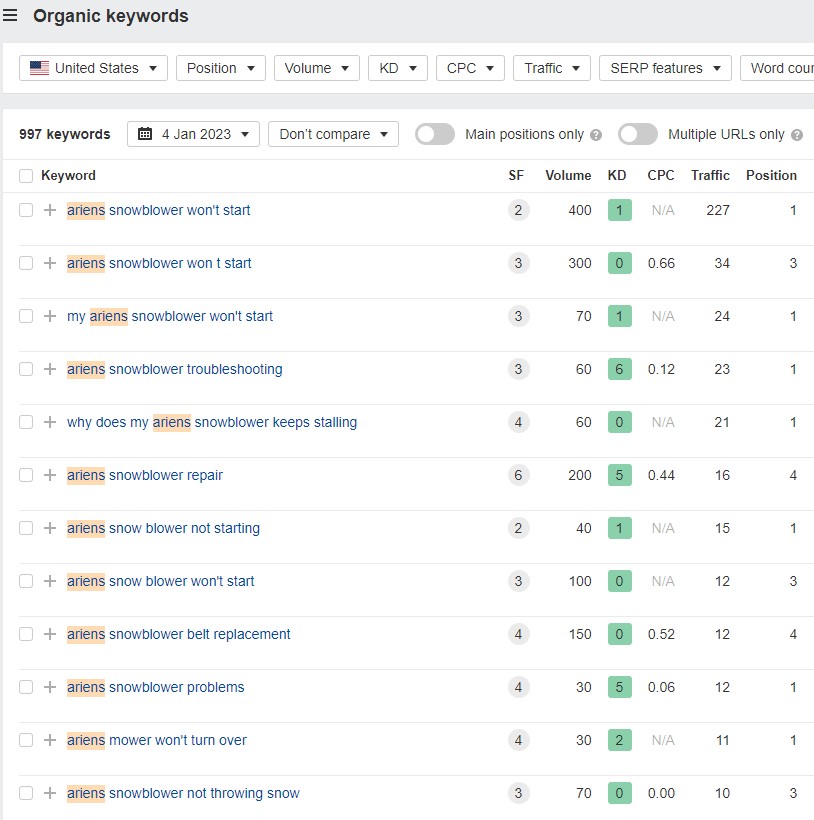 I'll show one more way of doing this. You don't need any tools for this method.
3rd method: Google
In Google, search:
site:repairclinic.com ariens
This will bring up every indexed page on Repair Clinic that mentions the word "ariens".
You can refine by adding the word snowblower since lots of results for lawn mowers show up otherwise.
You'll then have to go through the results manually noting down any keywords that fit your cluster.
And there you go, 3 ways to to mine a broad site for keywords in a specific topical cluster.
Hope this was helpful. Thanks for reading!