January was a good month.
My site earned it's first dollar ($7.14 to be exact!)
This came from a product review where I had links to Amazon. Someone bought the product I reviewed, which costs over $150.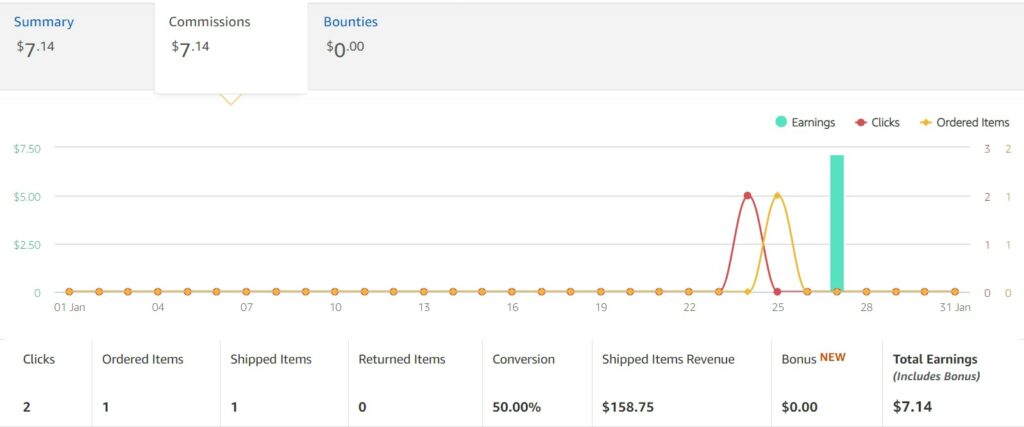 I've owned lots of profitable niche websites over the years, but the excitement of the first sale never gets old.
It took just over 4 months, which is fairly typical in my experience.
And it happened just as I was feeling super discouraged about the lack of progress this site has made.
I'm still a bit discouraged, but committed to sticking it through. I have to continually remind myself that this is the early stage, which always feels rocky and uncertain.
Why am I still discouraged?
I lost all rankings (at least top 100 which is what SERPROBOT tracks) for over a month.
Literally just yesterday one keyword popped up to position 87, which is exciting because it's a sign of life – though position 87 is nothing to write home about (I say, writing to an audience of 500+ haha).
The slow progress has made me rethink my strategy for building sites.
My strategy is changing
It used to be that I could find low competition keywords, write good content for them, and rank.
I put little thought into building topical authority. As long as a keyword was in my overall niche and had low competition, I would target it.
This worked in 2018. It even worked in 2021 for me. So, it's the strategy I used for my new niche site.
The more I read about what's working and not working for niche sites these days, the more I appreciate the importance of topical authority.
My site is less than half a year old still, so it's too early to judge what's working and what's not. But I suspect if it had excellent topical authority from the start, it'd be ranking and getting consistent traffic by now.
The fact that it did rank in the top 100 for multiple keywords in its first couple months but lost those rankings as I published content outside that initial topical cluster is very telling.
My new strategy is prioritizing topical authority, which I talked about in my last update.
---
By the way…you can order keywords in a specific topical cluster from Curated Keywords – just specify your cluster/niche in the order notes 🙂
---
I'm also going to put the brakes on new content for now.
It takes time for new content to start ranking and I want to see which clusters I'm focusing on get traction over the next few months. Once I know what topics do well on my site, I'll double down on those.
Besides topical clusters, I'm optimizing for EEAT as well. This is what I worked on in January:
I also redesigned the site and switched the theme to Kadence which offers a lot more design customization options than GeneratePress.
Design doesn't impact SEO or EEAT directly, but it does impact visitor's perceptions of a site – which can have an indirect impact on both SEO and EEAT.
Another EEAT task I need to do is to set up social media accounts. I opened a Twitter account for the site, but it was quickly flagged for spam (I simply filled out my profile and followed two accounts in my niche – I certainly wasn't spamming) and I've been locked out of it ever since.
Phone verification is the only way to get it back, but my phone is connected to a couple other accounts and Twitter says I hit the limit (which is apparently 10 accounts – so I'm actually nowhere near the limit). I reached out to Twitter support weeks ago but haven't heard back. If anyone reading this has any suggestions, let me know. Getting a new phone number may be the only solution….
January progress
Here's where the site stands:
No new posts were added. I'm still working through the content order I made with CLICKVISION (affiliate link). Half the order has been delivered so far; I just didn't have time to publish anything once they were ready.
CLICKVISION's turnaround time is slower than usual because of a recent influx of orders, but according to a conversation I had with the founder through Twitter DMs, he's adding to the team and will be able to handle more volume soon.
So far, I'm really impressed with the articles they've delivered. There was one issue I had (that wouldn't be an issue for many people – just a personal preference), so I requested revisions which they are now cheerfully doing.
Yet another reason reason why CLICKVISION is the best content agency I've worked with, and why I can confidently recommend them to people. If you're looking for an agency that produces high quality, human-written content at a very reasonable price, you can check them out here.
The 10 hours I spent working on the site all related to improving EEAT, ordering and looking over content, and the redesign.
The site received zero visitors according to Google Analytics and Search Console.
What's strange is that I made a sale through Amazon so I obviously had at least one visitor, but Google didn't register it. I have no idea what to make of that. Is there a way people can visit a site without Google detecting them?
Anyway, moving on to my goals.
The goals I set for January (strikethroughs mean I completed that goal):
Publish at least 30 new articles (I published 0…)
Add an about page
Put myself (alias) as the author
Add HTML sitemap
On the contact page, add email addresses for different departments
Find another 30 keywords to target within my new clusters (I found a few, not 30 though since I'm putting the brakes on content production like I mentioned earlier).
February's goals:
Publish 15 articles (15 are in draft mode right now, and there are another 19 on the way)
Once this full batch of 34 is published, I'll pause content production for a few months and focus more on promotion/distribution/EEAT/off-page while waiting to see which clusters do well.
I'll share the same graph I shared in all the previous updates: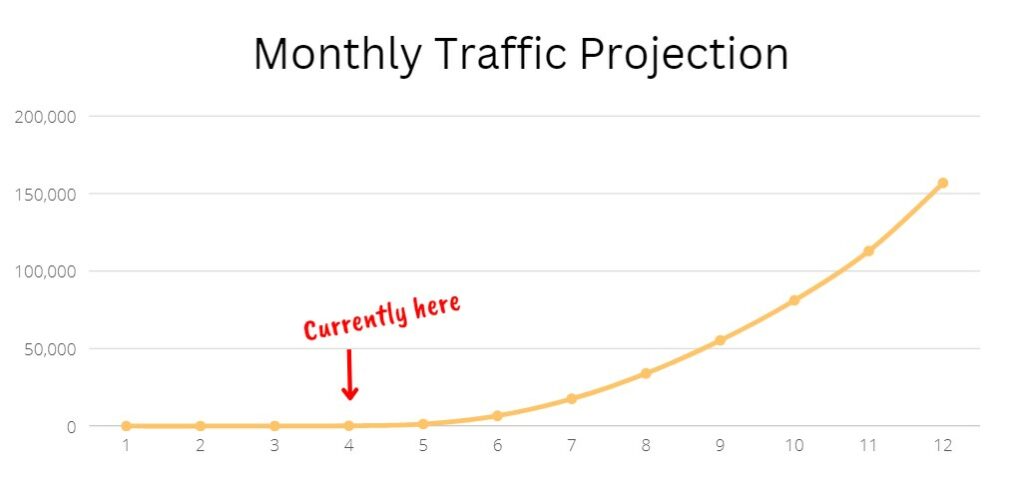 I'm not confident reality will meet my projection, especially since I'm only working on the site for a few hours a week on average.
But consistent action is what produces results, so I will keep taking action whether reality matches projections or not.
My thoughts on the AI revolution
I can't talk about niche sites without addressing the elephant in the room.
The internet is experiencing an AI revolution. OpenAI. Bing. Bard. Other AI search engines.
Many niche site people are transitioning away from niche sites and SEO and launching businesses that don't rely so much on search engines.
I personally think it's foolish to say niche sites will no longer be worthwhile. It's absurd to think people will prefer AI answers over traditional human-written articles.
For some searches, AI answers are fine. But for any search where people want multiple perspectives, niche sites will thrive. Anything that people spend time researching – learning a new skill or topic, reading reviews, YMYL topics, expert how-tos, opinions, etc. – will be better served by niche websites than by AI.
With that said, I also think it's foolish to solely rely on niche sites for your income. Not because of AI specifically (though that's part of it), but more because of search engine platform risk. I would've said the same thing before AI took everything by storm.
Diversification is more important than ever before.
Building a brand is more important than ever before.
Owning your audience is more important than ever before.
Niche sites have been my main income source, but recently that's changed (intentionally). I'm now building my personal brand on Twitter, building a keyword research agency (Curated Keywords), and building newsletters.
I'm trying to diversify, build a brand, and own my audience and I strongly suggest you do the same.
That's it for this month's update. Thanks for reading! Feel free to leave a comment below if you have any thoughts or questions.
Last thing: if you want to get these reports as soon as I publish them, subscribe to my email list!